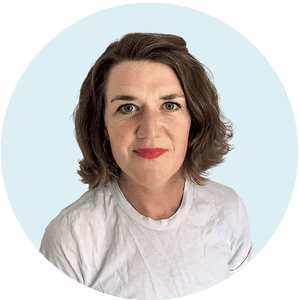 The last time I ran a half-marathon, it looked like I'd been down a log flume. My father had signed me up for the race while I was still eight months pregnant. By his calculation that gave me a cool six months between pushing an entire human infant out of my body and then running 13.1 entire miles around my hometown in full public view.
Most of my training took place during the bare, leafless months of winter. This is significant, because bare-branch winter is precisely when it is hardest to bob down behind a bush and take a quick and wild wee a few metres off the path.
In July, when the trees are thick with big green leaves and bushes are heavy with flowers, you can drop your kecks with a certain degree of secrecy in a lot of outside spaces. But in January, you might as well try crouching behind an empty drying rack. I don't know how many people saw me as I tried to wee as modestly as possible behind a bunch of sticks that winter, but I imagine it's enough to order two taxis.
On race day, I decided to wear a royal blue pair of leggings. Now, as anybody who ever had a really sweaty maths teacher with a passion for royal blue shirts will know, certain colours can really show up a moist patch. And so, at around mile 12, I looked down and realised that things were becoming, how can I put this, evident.
I then had the choice; run backwards to find the nearest block of portable toilets, lose my place, my running partner and ruin my finishing time, or throw shame to the wind and plough on? In preparation for the race, I had written I Gave Birth Six Months Ago in large block letters across the back of my T-shirt. People, I reasoned, had been warned.
And so, I ran on. I overtook my boyfriend in the final half mile and pounded across the finishing line heart pumping, legs soaked.
Since having even a modestly-sized child, my bladder has become – let's put it charitably here – unpredictable. Some mornings I can run down the towpath, through the early morning mist, flown over by honking flocks of geese or sending a muntjac deer scuttling through the tall grass without needing to stop.
Other times, particularly if I've been drinking coffee like someone from a Raymond Carver novel beforehand, I'll be diving behind trees and into reed beds like a barely house-trained spaniel. I do have an alarm on my phone, to remind me to do my pelvic floors every day, even if I'm not nearly as rigorous about those exercises as the get-outside-and-enjoy-the-fresh-air variety. When I pass another runner I sometimes feel an urge to shout something like: "It's just crotch sweat!" before I remember that for one, they are unlikely to be looking directly at my vulva; and two, they certainly would look if I started shouting about it. Crotch sweat, I reason, has a certain LA power yoga flair to it.
I still pound out a decent number of miles most weeks, jogging through fields, across parks and along tributaries of the Thames early in the morning – while my toddler son and sensible partner sleep.
Without regular, outside, gravity-defying, pelvic floor pushing exercise I fear for what would become of my health. Physical health, for sure, but also my mental health. In other words, without that regular, wild and occasionally wet exercise, I know that I become a jittery, sad, hopeless, grim and dejected version of myself.
It's that simple. And it is worth it. Mostly. Moistly.
Many women experience light bladder weakness at some point in their lives. By exercising your pelvic floor muscles you can seriously reduce the risk of little leaks. To find out more, search "TENA My Pelvic Floor Fitness app" or visit tena.co.uk/ageless