From porcelain production techniques that date back centuries to the peerless animated films of Studio Ghibli, Japan has offered much to the world of art and craftsmanship. This, in turn, has been a source of great inspiration for the Japanese watchmaker Seiko over the years, not only in how its artisan designers create its watches, but also in its choice of collaborators.
The Presage line, in particular, includes timepieces that are based on partnerships with Japan's finest creators across a range of disciplines, eras and aesthetics.
Animated design
Studio Ghibli, the world-famous Japanese animation studio, is celebrated for its creative, ethereal settings, distinctive visuals and masterful storytelling. Drawing inspiration from this contemporary Japanese art, Seiko has combined precision timekeeping with design to create two limited edition Presage timepieces that pay homage to Studio Ghibli's 1992 film, Porco Rosso.
The animated films of master director Hayao Miyazaki fit perfectly alongside a collection of precision watches. After all, Miyazaki has an obsessive eye for fine machinery, especially in Porco Rosso, with its depiction of Porco's aeroplane, Savoia S.21, a loving nod to early aviation. It is a film filled with celebrations of moving parts, including multiple 1920s- and 1930s-style fighter planes.
The intricate designs of the Seiko Presage Porco Rosso timepieces have, in turn, been inspired by Porco's aeroplane. The spring drive version, for example, features a dial styled on the aeroplane's instrument panel, with the aircraft's R emblem prominently displayed in the centre. The default strap is a vibrant red, matching the plane's fuselage. The sapphire crystal back offers a glimpse of the moving parts inside, along with an illustration of Porco Rosso's eponymous porcine protagonist.
Meanwhile, the automatic version boasts a black dial with a small green, white and red subdial emblazoned with the plane's R emblem. The second hand has been crafted in the shape of the Savoia S.21's propeller. This adds to the overall presentation of an aircraft dashboard, elegantly crafted into a balanced and stylish design.
But while the world of anime is relatively modern, the Presage line also takes inspiration from much older sources.
Centuries of artistry
Arita, a small town on Japan's southwestern island of Kyushu, has been producing some of the world's finest ceramic pottery for centuries. In the west, it's better known as Imari ware, named for the port from which it was shipped. In fact, so prized was the artistry of Arita's craftsmen in the early 17th century that they were forbidden from passing on their techniques outside the local area.
Now, Seiko has forged an alliance with the town that could be as precious as the ceramics themselves – tapping into centuries of knowledge and unmatched artisan skills to have dials created there for its Presage Arita Porcelain Dial collection.
A new type of Arita porcelain material was specially created with the durability required for the Presage line. The dials are made by master craftsman Hiroyuki Hashiguchi at an Arita manufacturer that has been making porcelain since 1830. In a nod to the original colouring of the earliest works of Arita's craftsmen, the wristwatch features a lustrous ceramic dial in white with a trace of blue, which is delicately balanced by translucent blue hands. Yet again, Seiko has been inspired by one of Japan's leading creators, bringing to life a meaningful partnership and preserving the craftsmanship in a form you can wear on your wrist. Each handmade porcelain dial features tiny variations that make each watch a unique piece of wearable art.
Auspicious beginnings
Going back further in time, the recently launched Seiko Presage Sharp Edged Series features a dial embossed with a Japanese Asanoha pattern, a mesmerising repeated series of interlocking triangles or half-diamonds that has been used in Japanese design for more than a thousand years. The pattern is named for its resemblance to the Japanese hemp leaf, a key ingredient of clothing materials in ancient Japan.
Asanoha patterns have been used to decorate everything from traditional kimono to the uniform of Japan's national team at the 2019 Rugby World Cup; the pattern was chosen for the Presage line for its connotations of strong growth and good health, especially among the young, because youthful hemp trees grow straight and true.
The simple geometric lines of the contoured dial reflect light differently from every angle, and there are four colours to choose from: the unbleached silky white of Shironeri, the smoked bamboo tone of Susutake, the deep indigo colour and iron effect of Aitetsu, and the evergreen forest appeal of Tokiwa.
This vibrant nod to ancient traditions is combined with a minimalist case – crisp, angular and eye-catching – to create a modern masterpiece.
Modern classic
Dubbed the "godfather of modern Japanese design", the industrial designer Riki Watanabe worked with Seiko for decades, showering his creativity into everything from small clocks suitable for Japanese homes to the Seiko Riki Watanabe timepieces of the 2000s. It is fitting, then, that the Presage line pays homage to both Watanabe and Japan's vibrant modern design scene.
The striking white or indigo enamel dials – with simple lines for hour markers – recreate the iconic Riki steel clock in refined fashion.
Because of the skill needed to make dials from enamel, the task requires the mastery of craftsman Mitsuru Yokosawa, who has worked with enamel for nearly half a century. No two dials are quite the same, either, with the tiniest of imperfections reflecting the Japanese concept of wabi-sabi.
Watanabe's designs are for everyone, intended to combine simplicity, ease of use and accessible materials with an aesthetic that was (no pun intended) timeless. Created in collaboration with Watanabe's team, the Seiko Presage Riki Watanabe collection is a true celebration of modern Japanese design.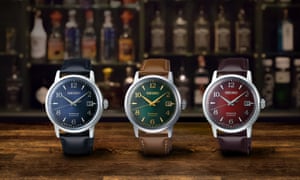 Time at the bar
Another kind of art entirely is the art of mixology. While this is not originally a Japanese tradition, Japan nonetheless has risen to prominence in the world of mixed drinks.
Since the turn of the century, Japan's bartenders have been earning an enviable reputation with specific focus on the cocktail culture and specific drinks from the Skybar in Tokyo's sophisticated Ginza area. It turns out that the artisanal approach of revered anime directors, porcelain craftsmen and modern designers applies to cocktail makers too. It helps that Japan is a food-obsessed nation where high-quality ingredients come as standard.
The Seiko Presage Cocktail Time collection is inspired by Japan's cocktail culture in Ginza. In 2020 the line has grown, with three new styles that feature slightly smaller cases and, for the first time, an Arabic numeral dial. The even numbers are vintage numerals intended to resemble the print on traditional bottle labels, while the odd numbers are the series' trademark tapered markers that recall the stem of a cocktail glass.
The dial of each watch features a mesmerising textured surface below the glass that evokes the engraved elliptical criss-cross pattern of a crystal tumbler. Each is coloured with a dramatic wash based on the drink it is named after – the Mojito is green like crushed mint, the Old Clock is deep blue like curaçao, and the Negroni is the deep orange-brown of mixed Campari, vermouth and orange peel.
By creating lasting relationships with leading members of the art and design world throughout Japan and embracing a multitude of inspirations, Seiko has filled its Presage line with a varied range of styles to delight aesthetes of all stripes.
Follow Seiko on Instagram and Facebook to keep up to date with its latest releases, and visit its website to find your own timepiece imbued with Japanese art and history