You can't beat mopping up that delicious sauce with a piece of bread after a fry-up. But beans have moved on from the cooked breakfast. People proudly boast about their personalised recipes and each generation adds a new twist to a family favourite. Whether it's breakfast, lunch or dinner, there's always room for beans on our plate.
With increasing health concerns about the reduction of sugar in our diet, Heinz No Added Sugar Beanz lets this comfort food become a convenient staple for health-conscious people. Here are three recipes built from love and tradition for you to try.
Nadine Brown and her sausage and baked bean bake
Recipe developer and food editor Nadine Brown makes this dish for her family – her partner, her eight-year-old daughter and two-year-old niece: "It's perfect for a hungry family with little patience," she says.
The dish is based on a recipe Brown developed a few years ago, but with tweaks made specifically for her family. Beans have always been a favourite in their house: "They taste great on their own or in a dish like this," Brown explains. "The basil goes deliciously with the tomatoes and beans", she says, talking about working with flavours, and adding more vegetables helps to get the kids their five a day. The no added sugar version is also something that Brown is pleased about: "It helps me keep an eye on the amount of sugar we consume in the house."
This dish is also about ease – it's a "bung it all in one" dinner. Cooked in one dish, it can be simply brought to the table, and makes cleaning up a breeze. This is a dish that features on the weekends in Brown's household, when they don't have to think about work or school and can enjoy spending time together eating a meal in a relaxed way.
Sausage and baked bean bake
Preparation: 10 minutes
Cooking time: 40 minutes
Total time: 50 minutes
Serves: 4
Ingredients
8 pork sausages
4 garlic cloves, skin on, lightly bashed
1 tbsp olive oil
2 red onions, cut into wedges
1 red pepper, seeds removed and cut into chunks
1 green pepper, seeds removed and cut into chunks
2 x 415g tins of Heinz No Added Sugar Beanz
30g basil leaves, roughly torn
300g cherry tomatoes on the vine
Freshly cracked black pepper
Crusty bread to serve
Method
Preheat your oven to 200C/fan 180C/gas mark 6.
Add the sausages and garlic to a large, deep oven tray and drizzle with the oil. Season and toss to coat. Transfer to the oven and roast for 15 minutes.
Remove the tray from the oven and add the onions and peppers. Season lightly then roast for an additional 15 minutes.
Remove the tray from the oven and stir through the Heinz No Added Sugar Beanz and half of the basil, topping with the tomatoes. Put back in the oven and bake for a further 10 minutes or until the tomatoes just start to break down and the sausages are completely cooked through.
Garnish with the remaining basil, a final twist of cracked black pepper and serve with some crusty bread.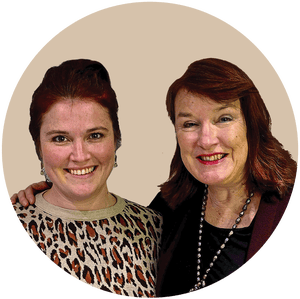 Roz and Zoe Alyssa Cooper and their minestrone soup
Mother and daughter, wine writer Roz Cooper and playwriter Zoe Alyssa Cooper, from Henley, have adapted a family recipe, each adding their own twists. Roz explains: "My mother made us minestrone regularly and this is an evolution of her recipe; parmesan rind was suggested by an Italian friend. And baked beans was my addition." For Zoe's recipe, it has been about making tiny tweaks. "Mum has the recipe nailed so it's hard to beat, but I add fried bacon, as the flavour melts into the whole dish, giving it a little extra depth and texture. Also, I add a pinch of smoked paprika to suit my Portuguese husband's palate."
This dish is woven with personal memories. Roz tells how she grew up in the Middle East and had mainly American friends, so Heinz was a familiar brand and is reminiscent of that time. For Zoe, baked beans, and this recipe, are memories of childhood and comfort: "A rainy Sunday afternoon? Soup time. Off school sick? Definitely time to bring out the big guns of Mum's minestrone. The smell of it cooking is beyond delicious, filling the house.
"When discussing this recipe with Mum," Zoe says, "she revealed its greatest quality – using what you have." Utilising leftovers was a key part of the family home when growing up, and an ethos Zoe has continued. This recipe is easy to adapt and uses many basic store cupboard standards – and it's both nourishing and healthy thanks to the no added sugar beans.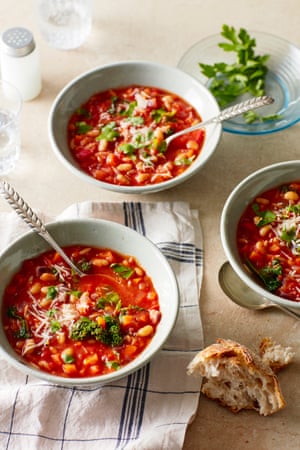 Minestrone soup
A store cupboard classic; this is a British take on the famed Italian recipe. Without the optional bacon, it works as a main dish for vegetarians, and without the wine and chilli, it's a great supper for kids.
Preparation: 10 minutes
Cooking time: 20 minutes
Total time: 30 minutes
Serves: 4 as a light meal or 6 as a starter
Ingredients
1 large red onion, chopped
3 garlic cloves, crushed
2 medium carrots, diced
Half a red pepper, diced
1 400g tin chopped tomatoes
1 415g tin of Heinz No Added Sugar Beanz
1 handful of orzo or similar small pasta
Salt/freshly ground pepper
Parmesan cheese (including rind)
1 tsp Heinz tomato ketchup
1 tbsp light olive oil
A pinch of dried mixed herbs
1 bay leaf
1 small red chilli or a small pinch of chilli flakes (optional)
125ml wine (red or white) or 2 dsp dry vermouth (optional)
4 rashers of streaky bacon (optional)
Method
Sweat the onion, carrot and pepper gently in the oil for about 5 minutes. Add garlic, bay leaf, chilli (if using), mixed herbs and a small piece of parmesan rind.
After 2 more minutes, add the wine (if using) and the can of tomatoes. Season well, taste and add ketchup as required to cut acidity. Add water to thin, if necessary; bring the mixture slowly to the boil. Add the pasta once boiling; turn down the heat to a strong simmer.
Grate the fresh parmesan; if using, turn on the grill to cook the bacon.
Two minutes before serving, add the Heinz No Added Sugar Beanz and stir; taste again. Remove the bay leaf and parmesan rind before serving. Crumble the streaky bacon; serve the soup with this and the parmesan in small side dishes.
Amardeep Rehncy and his masala thadka beans
Amardeep Rehncy, an accounts assistant in London's West End, grew up learning to cook from his father and older brothers. "Being in a Punjabi household, you tend to pick up what your elders do with food," Rehncy explains. This is a dish that has developed from family tradition and his rich cultural heritage. Rehncy speaks about how his love of cooking started young: "My parents are Indian but born in east Africa. Growing up in Tanzania I would spend time at my dad's Indian restaurant with the chefs in the kitchen."
This has stood him in good stead – on a lads' getaway he cooked this dish for 20 friends; as the only one able to cook, he was responsible for making sure they were fed for the trip.
Rehncy's mother died when he was young and all hands were on deck in the house; a memory he has is his father's Saturday tradition of a fry-up, with baked beans being a staple. One Saturday his father added a twist – onions, spices and chillies – the beginnings of this recipe. Thadka loosely means to add spice. "When you create any Indian dish you need a base to start. Our base is the beans, and any spices added are the thadka," says Rehncy. "I chose these spices because they're simple, easy and most importantly, are in every Indian household – classics."
He says the masala beans go well with toast, eggs, or, as his wife loves them, straight out of the bowl!
Rehncy adds that the no added sugar variant is great because most of the adults in his family are diabetic and this allows them to eat baked beans more often than not.
Masala thadka (pronounced thur-dka) beans
Preparation: 10
Cooking time: 25
Total time: 35
Serves: 4
Ingredients (per 2x 415g tins of Heinz No Added Sugar Beanz)
2 tbsp rapeseed oil
1 white onion (finely diced)
4 cloves garlic (finely chopped)
4cm piece of ginger (grated or finely chopped)
2 green chilli (finely chopped)
1 tsp turmeric
1 tsp cumin powder
1 tsp mustard seeds
1 tsp coriander powder
1 tsp garam masala powder
Small bunch of fresh coriander
Method
Add the oil to a saucepan on a medium heat (enough for the tin of Heinz beans) with the oil and the mustard seeds. Once the mustard seeds begin to pop (you'll hear little popping sounds), add the onion.
Once the onion has started to soften, add in the ginger, garlic and chilli, cook down until the onion starts to brown slightly.
Add in the cumin seeds and gently cook for another 2 minutes.
Add the spices – turmeric, cumin powder, coriander powder and garam masala. Cook these down on a medium to low heat for a couple of minutes just to take the harshness out. Once you see the oil separating from the "masala mix" you can now add the Heinz No Added Sugar Beanz.
Fold in the beans with the mixture until it is thoroughly mixed through and coated. Bring to a simmer, add a couple knobs of butter and mix well.
Coarsely chop the coriander, move the Heinz beans to a bowl and garnish.
Find out more about Heinz No Added Sugar Beanz here