When I was growing up in Suffolk, beans were for breakfast on a Saturday. My mum used to bake bread. I can still remember waking up to the smell of her amazing little crusty rolls. We'd have them with crispy bacon, eggs and baked beans and that was just a little plate of joy to start the day. I can still taste it when I think about it.
Mum's from Antigua and beans are also a big part of Caribbean cooking. Rice and peas, which is really rice and beans, is one of my favourite things. It's so comforting, it's like the Caribbean version of mashed potatoes. Then you put curried goat or chicken or fried fish on it – or just more beans. If you're tired or lonely, sad or happy – whatever it is – rice and peas will generally sort it out.
These days I've become more aware of sugar in dishes. A honey glaze here, something else there and, before you know it, you've pushed the sugar levels way up. For me it's all about balance now. And low-sugar products are great for that.
You can also bring out sweetness using existing foods on your plate, for example when you're cooking your onions or leeks, let them go for longer because they create their own sweetness as they caramelise. It takes a while to adjust to that different kind of sweetness but it really works. Or add some cumin and a little salt to carrots and roast them to enhance their sweetness.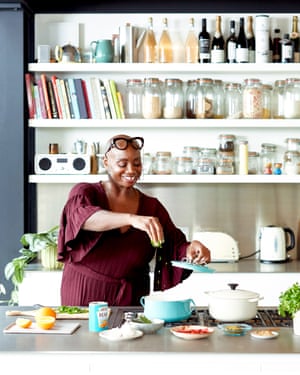 It's no surprise to me that beans are such a mainstay of so many cultures. Brazil has feijoada – black beans and pork stew. Families come together and add farofa, a toasted cornmeal, to it. And think of pasta e fagioli in Italy. There's a familiar heartiness that beans evoke for me and historically they're a food that people without much money could afford.
We see them as humble but forget how versatile they are. They're a brilliant carrier of flavour and add real depth and ballast to a plate. They're a kind of security food. When I became a mother, I'd send my kids to school on beans on toast because I knew it was going to last and fill them the right way. My daughter Miquita was also a big fan of my cheesy baked beans. It was a kind of Welsh rarebit with a bit of Worcester sauce, all bubbling under the grill with silky beans and crusty bread underneath.
The most exciting thing in cooking is when you take something people think of as humble and transform it into something really delicious and surprising. People forget the ways they can use the tin of beans in the cupboard – they're haricots in tomato sauce, which is the basis of so many dishes. That's why I came up with this recipe, which combines pork and beans – an age-old combination. Watch any cowboy film and that's what they're eating.
In this dish, I use tins of Heinz No Added Sugar Beanz to pair with the pork; the creaminess of the beans and the salty, spiciness of the pork just makes me really happy. Then you get amazing sweetness from the leek and garlic running through it all.
Spiced pork belly and caramelised leek and onion beans – from Andi's Wadadli Kitchen
A hearty recipe that's bound to satisfy – if you're making it for kids you can go easy on the chilli. Serves 4-6.
For the pork
1kg pork belly, boned and skinned
1.5 tsp ground cumin
1.5 tsp ground coriander
40g fresh ginger, grated
4 bird's eye chillies, finely chopped
1 orange, zest
3 fresh bay leaves
5 cloves garlic
Handful fresh coriander stalks
200ml pork or chicken stock
Sea salt and black pepper
Leek and beans
2 x 415g Heinz No Added Sugar Beanz
2 whole medium leeks, thinly sliced
5 cloves of garlic, very finely chopped
1 large onion, very finely chopped
20g butter
50ml good rapeseed oil
Salt and pepper
Preheat the oven to 120C/250F/gas mark ½. Take the pork belly, slip it into an ovenproof dish, rub in all the spices, then pour in the stock. Cover with tinfoil, and place in the oven for at least 90 minutes, and up to 120 minutes – the meat needs to be very tender so that when you test with a skewer or small knife it is soft. Remove from the oven and carefully transfer to a board or rack to cool it down. Reserve the cooking juices left in the pan as well. Take the meat and pull it apart or roughly chop it up. As with the juices, leave to one side.
Take a good heavy-bottomed pan, melt the butter, add the oil, then all of the other ingredients except the beans. Soften the ingredients very gently over a low heat for about 40 minutes, until they are very soft and caramelised. Add the Heinz No Added Sugar Beanz, pour in the cooking juices from the pork belly. Warm the whole dish through to gently bubbling over a low heat, season with salt and pepper to taste. When dishing up, layer the pork belly on top.
Serve with a crisp green salad and warm, crusty bread.
Optional garnish – crispy onions and a handful more of chopped flat-leaf parsley and coriander.
Find out more about Heinz No Added Sugar Beanz here